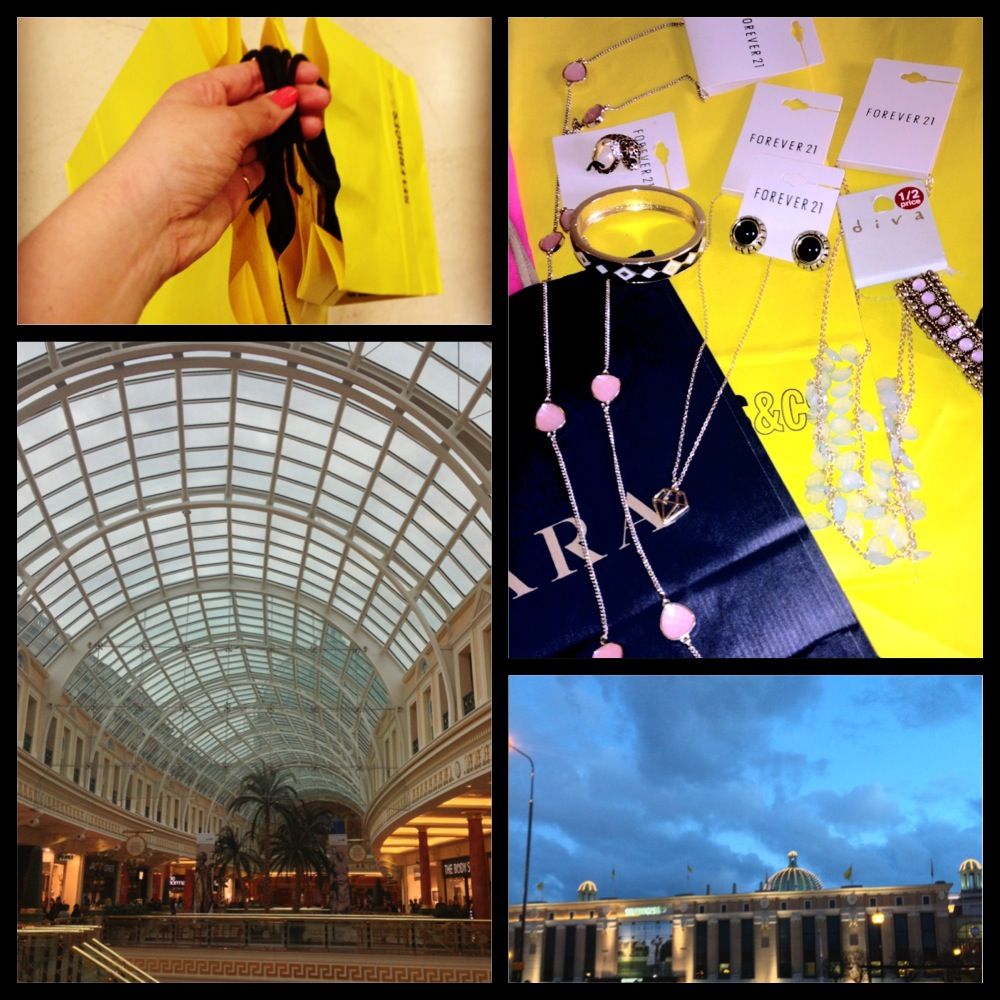 Student loans are in and the weather is getting warmer.. The only sensible thing to do after a hard day at uni is take a trip to the Trafford Centre and treat ourselves.
For those of you who don't know, the Trafford Centre is a huge shopping centre and leisure complex just outside Manchester city centre; I think it's the second largest in the UK. There are almost 300 stores, including an amazing Selfridges, and over 40 places to eat.

I absolutely love it there, it's so easy and cheap to get a bus from Piccadilly Gardens in the centre of Manchester (250/ X50) and you wind up right outside the Selfridges entrance.
The one thing I would say is go on a week day; on Saturday's and Sunday's you can hardly move without being hit by people and shopping bags. It's a lot more relaxed during the week, but does tend to get busier in the evenings.
After a full day of shopping, we ate and drank at Las Iguanas. To drink we had Iguana Cosmo's and Strawberry Red's (pictured) as well as Mango Collins' and Mojitos. It was happy hour so it worked out fairly cheap.
For starters we had brie and mango empanadas (top left), nachos (bottom right), potatos bravas and barbecue chicken wings. All the starters were lovely. I didn't personally like my main, but the girls I was with had Burritos and a burger and they both enjoyed theirs. We skipped dessert but ended with some tequila (bottom left). It wasn't expensive.. we had three/four drinks each and two courses and the bill came to £30 per head. Overall I'd really recommend it.

Now on to the shopping. First stop for me is always Forever 21, as there isn't one inside the city.

What I bought:
Pink stone necklace: £5.65 | Leopard Ring: £4.90 |

Black white bracelet: £7.40 |

Black and gold earrings: £3.15 |

Gold diamond shaped necklace: £1.65 |

Mint necklace: £4.90
I love Forever 21 jewellery, it's so affordable and pretty good quality. Most of what I bought can be found online here.
The pink and gold 'diva' bracelet is actually from Miss Selfridge and was
£10 down to £4.50 (sale + student discount).
I also got this amazing hat from Forever 21.. It was only £8.90. I'd posted about a similar straw hat in my Weekly Want and this is just perfect to take on holiday with me.



Now I remember going in to the shops when the spring/summer trends hit and thinking 'oh I wish they had less black and white stuff and more colour'.. Now when the shops are bursting with colour I've only bought monochrome items.

The Primark alphabet shirt (pictured above) was £12.. The only Primark in the Trafford Centre is a Selfridges concessions, but it does have some nice stuff in there.
The b
lack and white aztec dress on the left was £12, also from Forever 21 and t
he Polka dot pinafore was from Miss Selfridge.. it was £37 down
to £18 (sale + student discount). T
he lace print dress on the right was from Dorothy Perkins. It was
£18 down to £10.80 (sale + student discount).
Apologies about the picture quality of the clothes I bought.. It's really hard to get good photographs in my tiny, dark uni room. I'm living in a house next year, and the room I have my eyes on would be great for outfit photos as it's bursting with natural light. Does anyone have any tips for getting better photos?